The advantages of smart school lockers.
Students should have access to secure and user-friendly school lockers. Via authentication of your choosing, for example, with the Keynius smartphone app or your own school pass, the lockers can be operated very easily. No more losing locker keys or forgetting codes, but a smart locker system. Managers and janitors have full control over all functionalities of the lockers with our innovative locker management software.
User-friendly
Many authentication options
Using the Keynius app
Fixed and flexible users
Complete control
Innovative cloud software
Management via Keynius online
Historical and live reports
Security
GDPR compliant system
End-to-end encryption
Privacy and security by design
Functions and possibilities
Fixed or flexible use
The lockers can be set up for fixed users. Each locker can be assigned to one student who has their personal school locker for the whole year. But flexible use is also (simultaneously) possible, which is convenient for visitors, for example.
Smartphone app
Students can very easily use their lockers with the Keynius smartphone app (Android and IOS

API link
You can of course very easily link your student tracking systems to the locker management software. There are many standard links, including for Magister, Somtoday and It'slearning. This saves considerable time and costs.
Authentication
With Keynius, any form of locker authentication can be set up, for example, via a pass or tag, combination lock, fingerprint, pin code (via the terminal), RFID, QR- or barcode, bluetooth (BLE) or the smartphone app.
Central locker management
The management of lockers and users (authentication, authorisation, communication) takes place centrally via the online software. Adminstrators can simply log in via the browser on their PC or laptop.
Tailored solutions
Our locker management software is highly configurable, it can easily be tailored according to your needs and requirements.
Locker management software
What is the Keynius system?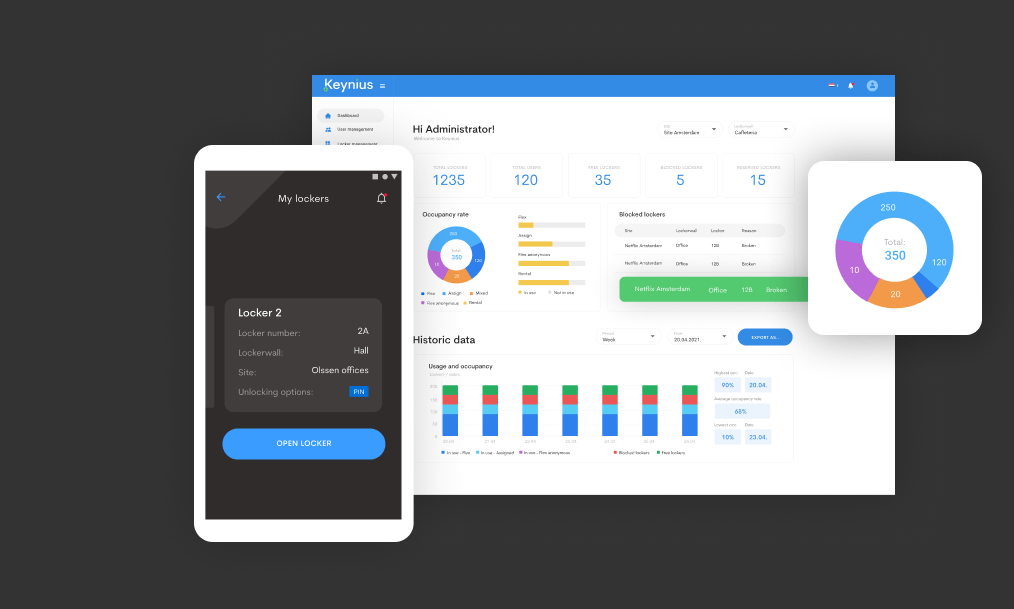 Keynius is the innovative software with plug & play hardware for the management and use of lockers (locker management software). Keynius is a cloud application, meaning that in addition to the optimal security of our environment, you no longer have to worry about installation, management, and updates. Due to Keynius being a cloud application, administration and locker usage only require a computer or smartphone with an internet connection. The administration for rent and deposit is also handled easily and intuitively via Keynius.
More about Keynius