Deliver and collect orders via a locking system.
With a smart click & collect locker system, your customers can easily pick up orders at a locker wall. This gives them control over their order, without hassle, at the perfect time and with excellent security. Click & collect is usable in every sector, whether this concerns wholesale, a local butcher (yes, cooled lockers!), or a petrol station. Provide your customers with great service and lower your costs.
Discover the advantages
No purchase of software
Low management costs
Remote control
Fully in control
Payment options and insight into revenue
Keynius platform for optimal management
Historical and real-time reports
Security
GDPR compliant system
End-to-end encryption
Privacy and security by design
Functions and possibilities
Extra service 24/7
Our solution for a click & collect locker system, offers your customers the possibility of picking up order products at a time of their choosing.
Contactless transfer
Package lockers ensure a secure and contactless transfer of the item to be retrieved by the customer. This means you no longer need a supervisor or staff to check the process.
Multiple purposes at the same time
Every locker wall can be set up for various purposes. Part of them can be used for click & collect, and another part of the lockers for storing personal belongings, for example, for shoppers.
Central locker management
The management of the lockers (authentication, authorisation, communication) takes place centrally via the online software Keynius. Administrators can simply log in via the browser on their PC or laptop.

Greater customer satisfaction
Customers don't have to worry about missing a delivery. They also don't spend money on delivery costs. And they can also return packages here!
Authentication
Clients can identify themselves at the locker wall, for example with a pin code, QR code, or via the smartphone app, after which their designated locker will open for collection.

Lower your costs
With the flexibility of package lockers, you do not only provide an extra service, but also save on staff costs or delivery costs.
Tailored solutions
Our locker management software is highly configurable, it can easily be tailored according to your needs and requirements.
Locker management software
What is the Keynius system?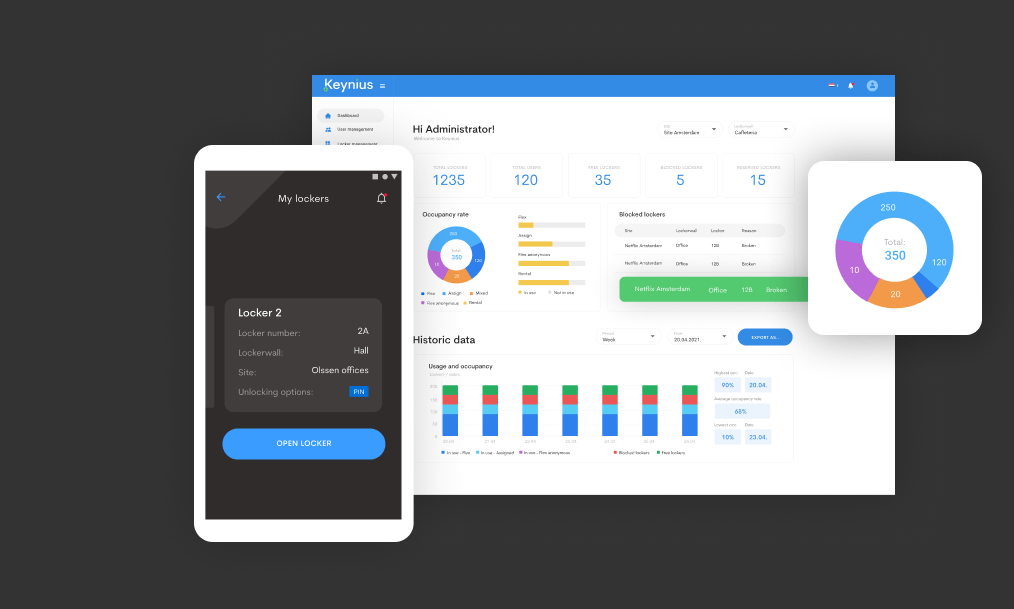 Keynius is the innovative software with plug & play hardware for the management and use of lockers (locker management software). Keynius is a cloud application, meaning that in addition to the optimal security of our environment, you no longer have to worry about installation, management, and updates. Due to Keynius being a cloud application, administration and locker usage only require a computer or smartphone with an internet connection. The administration for rent and deposit is also handled easily and intuitively via Keynius.
More about Keynius